Electric Starter Motor CW- CorsAir, HPR, Minari, Radne, HE, (ring gear on the front)



















Electric Starter Motor CW- CorsAir, HPR, Minari, Radne, HE, (ring gear on the front)

$50 DISCOUNT WILL BE APPLIED AT CHECKOUT
This electric starter motor will work on ALL paramotor and drone engines that have the ring gear in the front. It spins the engine counter clockwise, left rotation, pusher propeller. The bendix is 14 teeth.
Our clone SJCE/FIEM, 1:1 (all dims the same), replacement starters are built with High Torque, Neodymium, Rare Earth magnets which give us a torque factor of 1.072Nm vs 0.74Nm (SJCE/FIEM) starters. Rare earth Magnets have a HUGE Magnetic field of 1.4 Tesla vs 0.5-1 Tesla on standard Ferrite magnets (Italian starters). More torque means less stress on the starter and quicker starts for longer life.
Test results Below
Steps

Volts

Amps

Input

Torque

Speed

Output

Efficiency

Time

V

A

Watts

N.m

RPM

Watts

%

S

1

12.68

26.52

336.2

0.042

12698

54.51

16.2

0.000

2

12.69

25.78

327.1

0.071

12906

95.94

29.3

2.000

3

12.67

27.63

350.0

0.081

12918

109.6

31.3

3.000

4

12.60

33.23

418.7

0.261

12366

337.9

80.7

4.000

5

12.48

43.96

548.4

0.414

11499

497.2

90.7

5.000

6

12.29

60.24

740.5

0.454

10921

519.1

70.1

6.000

7

12.07

78.87

951.9

0.619

9584

620.1

65.1

7.000

8

11.82

99.33

1174

0.927

7145

692.7

59.0

8.000

9

11.45

130.6

1495

1.072

5315

596.0

39.9

9.000
Why are our starters better than others? Our custom made armatures are specifically designed to withstand the vibrations of a paramotor engine.
Our armatures have extra epoxy holding the windings to the commutator to ensure the wires do not break or vibrate loose. 

We add extra glue to the armature wires to keep them from breaking. 

14 tooth Bendix


CCW Bendix shown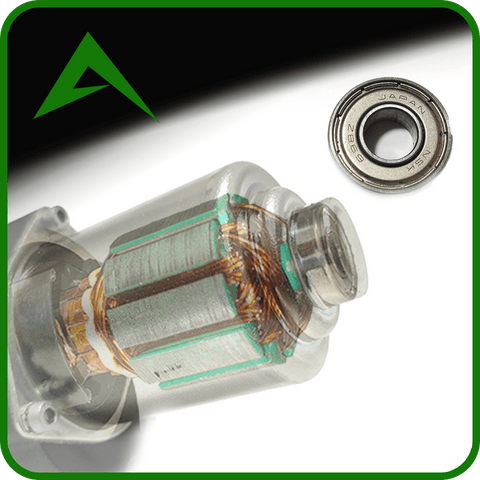 Our starter motor will fit most paramotor and drone engines that use the FIEM MG16553 & SJCE (SU051) Italian starters with a 55mm hole to hole pattern.
THESE STARTERS WILL WORK ALL 230CC TO 350CC. See other ad for CCW direction
*We believe in our starters so much that we give you a 2 year, MFG defect only, warranty (does not cover burnt or overheated components caused by over cranking or improper voltage issues and or clogged decompression hole). Simply return the starter at your expense and we will REPAIR or REPLACE it for FREE. Shipping not included.

We are not responsible for shipping damage.
ALL our products have insurance included in the cost of shipping. Should your parts arrive with any damage, you must file a claim with the shipping company. We will assist you to the best of our ability in any claim process. We will not be responsible for additional shipping fees, import taxes, or customs fees incurred due to inaccuracies in the address or phone number provided by you. Please allow 10-20 business days for shipment depending on the country. VortexAero.com shall be held harmless for all shipping delays.
Once the parts are shipped, there is a 20% restocking fee for all cancelled orders.
 VORTEX AERO, ("Manufacturer") warrants its products ("Product") against all Manufacturers defects ONLY in materials and workmanship for a period of 1 year ( 1 yr parts and labor, shipping included (first 15 days), MFG defect only from the date of purchase subject only to the following conditions and exclusions:
Distributor/Dealer/Customer MUST fill in and send the warranty form. Failure to do so will result in VOID of any warranty.  This Limited Warranty is applicable only to: 
The original purchaser ("Purchaser") and shall not apply to any subsequent owner, assignee, or other recipient of the part from the original purchaser. Parts purchased: Within the entire world From Distributor or an authorized dealer thereof. Excludes parts purchased from non-VA representatives. MFG defective parts only, but not limited to: Charges incurred for removal of defective parts; Charges incurred for installation of replacement parts, or; Any additional charges which a Dealer or Service Agent may impose. Purchaser is responsible for all transportation costs and shipping damage incurred to/from Distributor when submitting parts for repair or replacement under this Limited Warranty. NO WARRANTY PART WILL BE SHIPPED UNLESS THE OLD PART IS RETURNED TO DEALER, DISTRIBUTOR OR MANUFACTURER FIRST. If the purchaser or dealer is in a hurry for any part, the part can be purchased at dealer cost, shipped at dealers/purchasers' expense, then a refund issued back once we have received the part within 30 days of purchaser receiving the part, and the part was in fact defective and under warranty.

Any claim against this Limited Warranty shall in no way be construed as extending warranty coverage beyond the original period stated that commenced upon date of purchase.

No dealer, nor any other person, or corporation has any authority to amend this Limited Warranty or make any warranties or representations concerning Distributor/Dealer, or to extend this warranty beyond the express terms contained herein. Purchaser releases and holds Distributor harmless from any claims stemming from any unauthorized representations.

Purchaser holds the Distributor/Dealer harmless for any consequent injury, loss, or damage resulting from:

Defect or malfunction of the Product;

Acts of God;

Shipping damage;

Purchaser misuse, unreasonable use, tampering, abuse, acts of omission, failures to exercise due diligence, or negligence;

Alterations to the Product by any person or entity other than the Distributor;This Limited Warranty shall NOT apply in cases where: 

The part has been damaged due to misuse.

Incorrect propeller size is used causing over rev of the engine.

The customer has not completely read and returned the warranty card with proper engine serial numbers and customers complete information.

Incorrect carb settings are used ie: New carb is installed and the pop-off pressure is not set correctly, or customer does not follow directions in the manual correctly or dealer does not follow manufacturers recommended changes.

The Product suffered shipping damage incurred in transit between Distributor and Purchaser. While in such cases, Distributor will do its utmost to supply replacement parts in a timely manner, the Shipper shall be solely liable for all costs incurred due to damage during loading, shipping, and unloading of the Product.

The Purchaser has failed to properly assemble the Product and/or exercise due diligence in ensuring that all critical nuts, bolts, screws, and other fasteners are both present and properly tightened prior to using the Product.

Parts have been damaged due to improper assembly, excessive force, or failure to follow reasonable mechanical standards.

The Purchaser has failed to properly maintain the Product in accordance with the directions contained in the Owner's Manual provided by Manufacturer, including but not limited to damage incurred due to insufficient fuel mixtures causing the engine to run lean.

The Purchaser has failed to properly break-in the engine per instructions.

not limited to the use of parts other than genuine Vortex Aero parts.

The Purchaser has modified the Product in any respect including but The following none VA manufactured parts are covered under warranty for the term of 6mo, part only, no shipping from the time of purchase and do not apply to the 1 yr  warranty.

​

Carburetors

Meters

Pull starters

Spark plugs

Springs

Exhaust and brackets

Silencer

Belts

Rubber isolators

Electronic components

Propellers

Any and all rubber components

ALL Bearings
These warranties set forth herein are in lieu of any and all other warranties, expressed or implied, including the warranties of merchantability or fitness for specific purpose. Any implied warranty imposed by state consumer law is limited in duration to 1 year from date of purchase.

Purchaser represents and agrees that any claims, which it may assert against Distributor/Dealer, shall be limited to those, which may be asserted under the foregoing limited warranty.

This warranty is offered exclusively by VA and it distributors/dealers. By making a purchase with our company, Purchaser agrees that he/she has read, accepts, and agrees to this Limited Warranty and its terms.

Dealer/Distributor is responsible for any and all warranties for parts they have sold. Dealers/Distributors shall service their own customers to the best of their ability and warranty parts within a timely manner as to satisfy the customer as quickly as possible with out delay. Failure to do so will result in the loss of the privilege to sell that specific part. This means that the Dealer/Distributor shall negotiate with the customer directly the fastest way to solve the warranty  and not pass it to the manufacturer to solve the issue. The Dealer/ Distributor shall be responsible for his or her own troubleshooting to solve the issue. If the dealer does not know how to troubleshoot the issue, VA will assist the dealer and help the customer solve the issue but will not warranty the part directly. The dealer must follow the warranty policy stated in section 3 of this policy.